By Jeremy Byrom, Service Center Operations Manager
Our 26,000 sq. ft. Numed Service Center (NSC) provides areas for system staging, upgrades, storage (cold storage included) and parts. Today we are going to focus on an area that is set aside specifically for parts harvest and how we keep things organized in the process.

Harvesting is the process of bringing in a system and disassembling the piece for parts. Here at the NSC, all parts that are harvested go through a strenuous quality process before being inventoried and preserved for service call or sales. Systems are prioritized for harvesting according to need or demand for their parts and assemblies.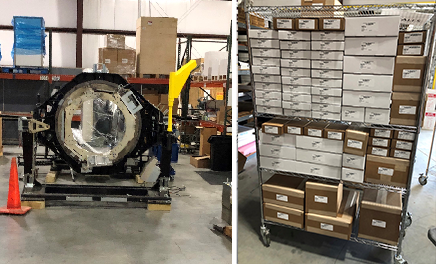 All systems purchased come into the NSC and are staged for Quality Control in a Staging/Test Bay. Once the system passes all OEM specifications and quality checks, the system is deinstalled from the staging bay and moved to approved inventory or harvest. If systems are designated for harvest, they are moved to a designated location within the NSC and harvested. Harvesting personnel generate all documents required to meet the needs for harvesting a system.
Standard procedure is to perform a full harvest of one system at a time to eliminate any crossing over of parts. However, a staged harvest may be made when systems arrive containing parts that are needed immediately. The systems that are staged for harvest are segregated from any other harvest that are being performed at the time. Parts are then entered into our inventory system so that we can track the life cycle of the part. Partially harvested systems will remain in harvesting area until process is complete.
Parts that are not needed or that do not meet requirements are clearly identified and segregated from Work in Progress and Approved Parts. Scrap and nonconforming goods are stored in assigned locations in the designated scrap area inside the NSC. At any time during inspection or testing, should a part be deemed nonconforming or unsuitable for use, it will be tagged or placed in the appropriate scrap material container.
Numed keeps the customer in mind by prioritizing systems for harvesting according to need and demand for their parts and assemblies. In need of a part? You can always reach out to Numed Service by calling the Service Desk at 1-844-200-0752 or emailing at servicedesk@numedinc.com.